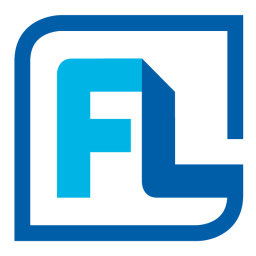 Efficient Due Diligence. Build Positive Relationships.
Manage
Protect your property from the Zombie Apocolypse. Really.
The Zombie Apocalypse is coming and the phoenixes are rising from the ashes - and the stakes have never been higher.
Zombie and Phoenix companies seeking retail and industrial property are dangerous to all property managers and their clients.
Agents can now better protect the interests of their clients, with a powerful new tool in their armoury. Meet commercial reports, powered by Equifax.
The premier global data, analytics and technology company, Equifax is the leading provider of credit information and analysis in Australia.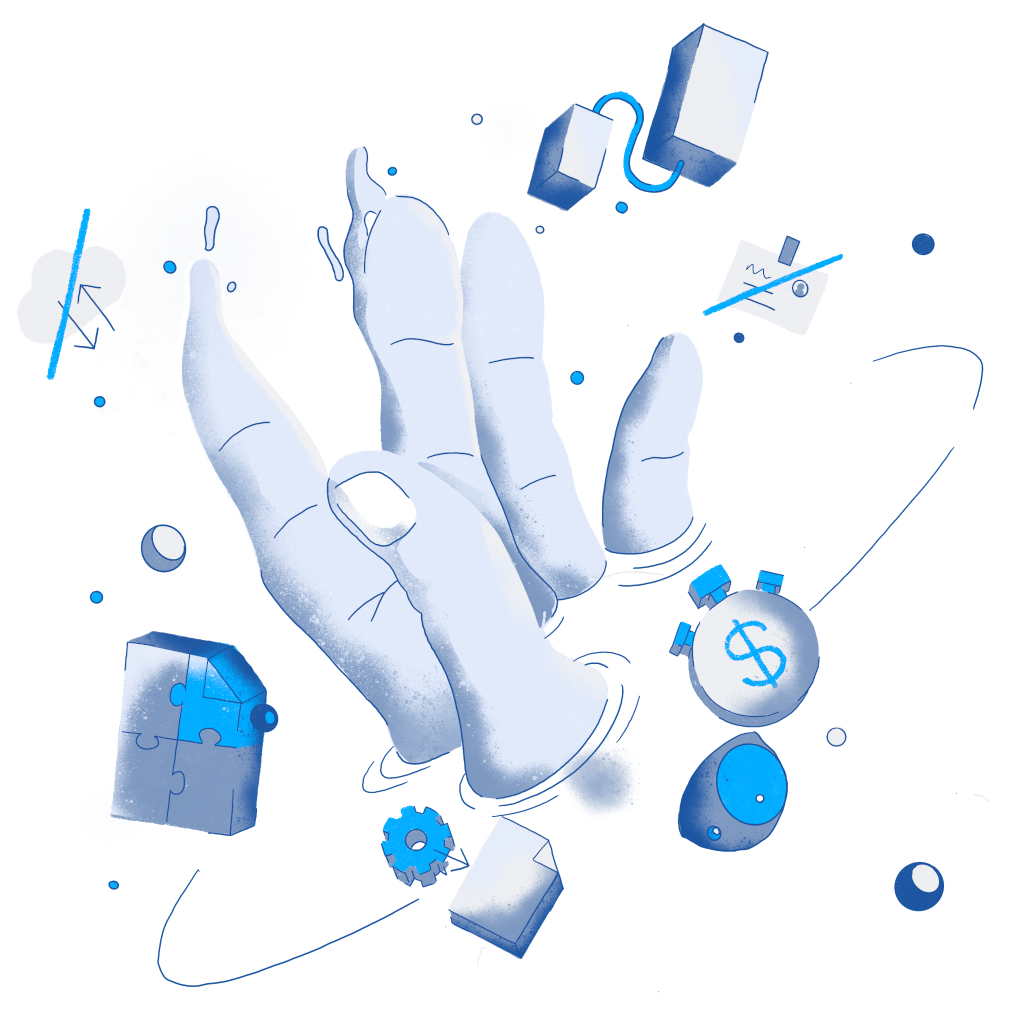 Commercial Reports
powered by Equifax
Rich insights makes protecting your clients easier than ever.
mitigate
Potential Risk
Integrated with your workflows, these new Equifax commercial reports provide detailed insights into the credit background, not just of companies, but individual directors.
up to date information

Trust in Equifax's insights drawn from the largest, most comprehensive and current credit bureau in Australia and New Zealand.

quick and easy

Simply search for the person by name and your report is instantly generated and available in your account within minutes.

reduce risk exposure

A red-flag on potentially fraudulent applications to reduce risk exposure and the likelihood of costly write-offs.

Reduce costs

Slash credit collections costs by ranking accounts and prioritising collections efforts.

Unrivalled advantage

Unrivalled advantage with deeper insights for fraud screening.

ratings performance

Corporate Scorecard will publish on its website historical transition and default rates of its rating categories once a sufficient number of defaults are rated to provide statistically significant estimates.
First class data & analytics at your fingertips
Powered by Equifax. Australia's credit checking provider.
credit active individuals

16.4 M

companies & businesses

3.6 M

sole traders

3.4 M
Discover a world
of new possibilities
Download data driven commercial reports, instantly.
Curated
Integrated with your workflows, select reports provide the most valuable insights into the credit background of companies and directors. We make it easier than ever to conduct comprehensive due diligence with new customers and suppliers.
"Agents must act in the client's interest and be responsible for who they put in a building. Where we've landed is a reasonable position. Humanity is what we have seen."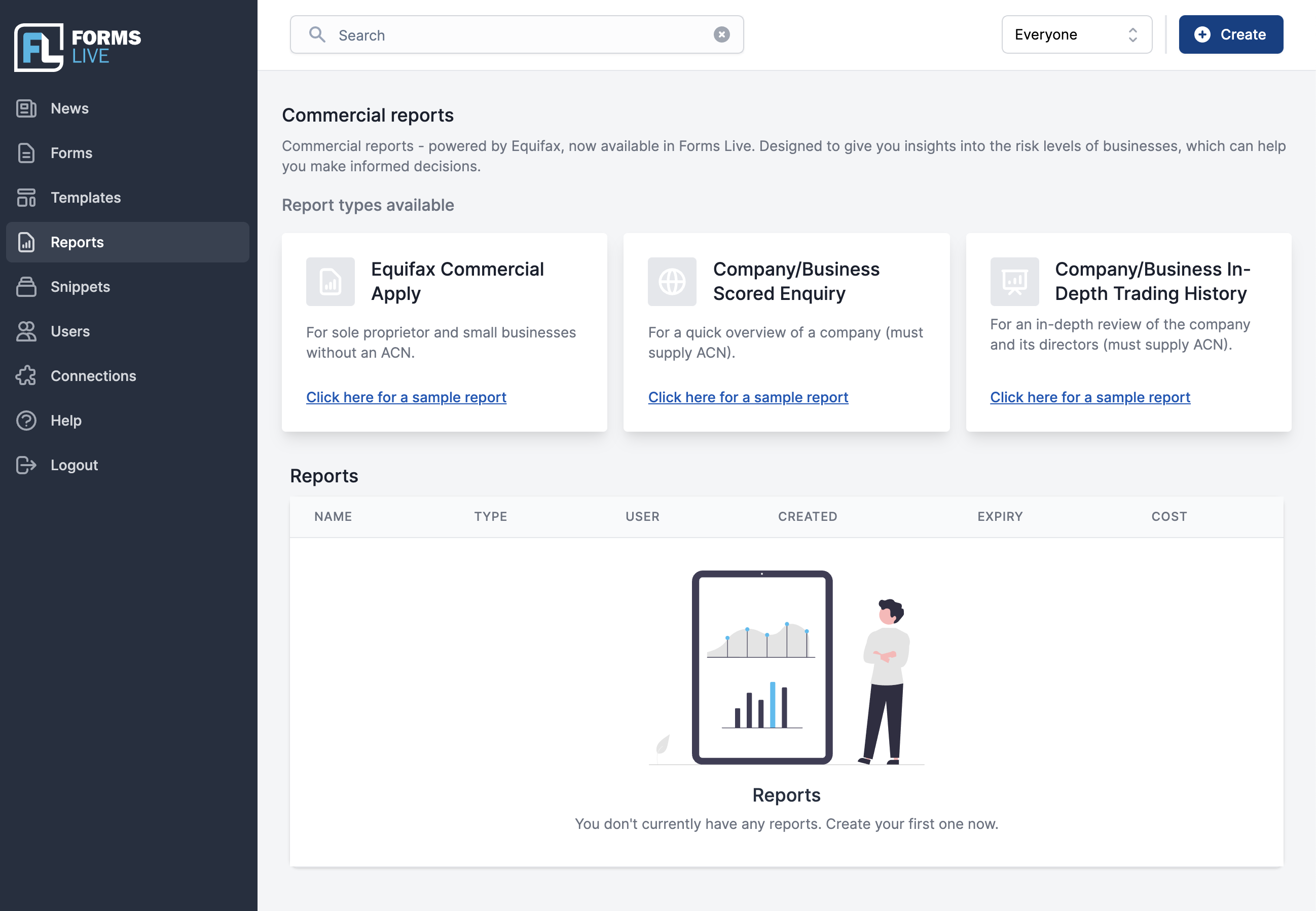 On demand
No additional subscription fees necessary, reports are available on a needs basis. Reports can be purchased and downloaded individually, and are available for 30 days.
"An ASIC search and obtain director guarantees is insufficient due diligence in today's environment."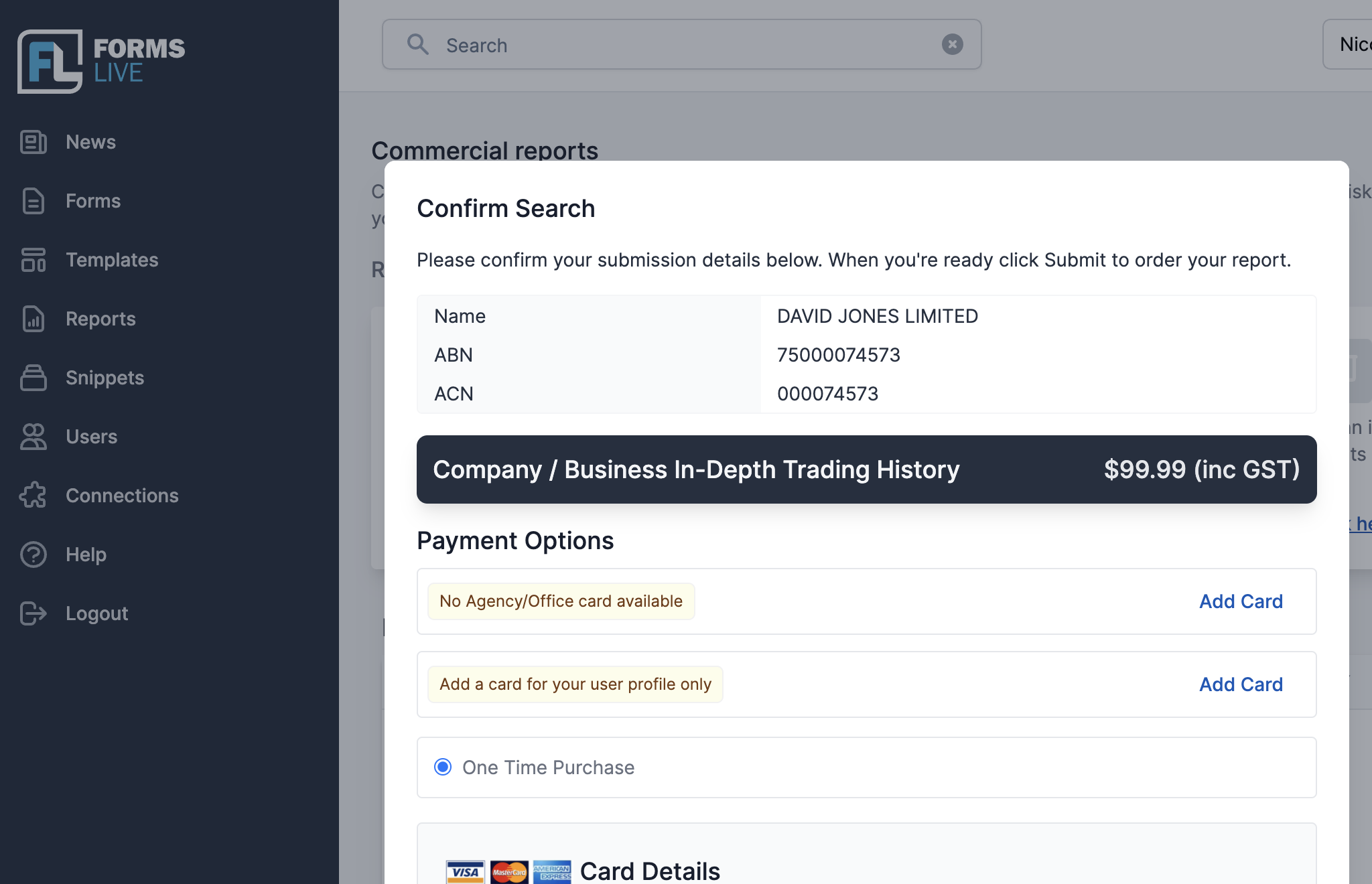 Seamless
Delivering a completely digital experience, using this new Forms Live integration means 70% less admin time, providing a remarkably easy and pain-free experience.
"One-million-per-cent, Forms Live has improved our business, increasing efficiency and reducing costs."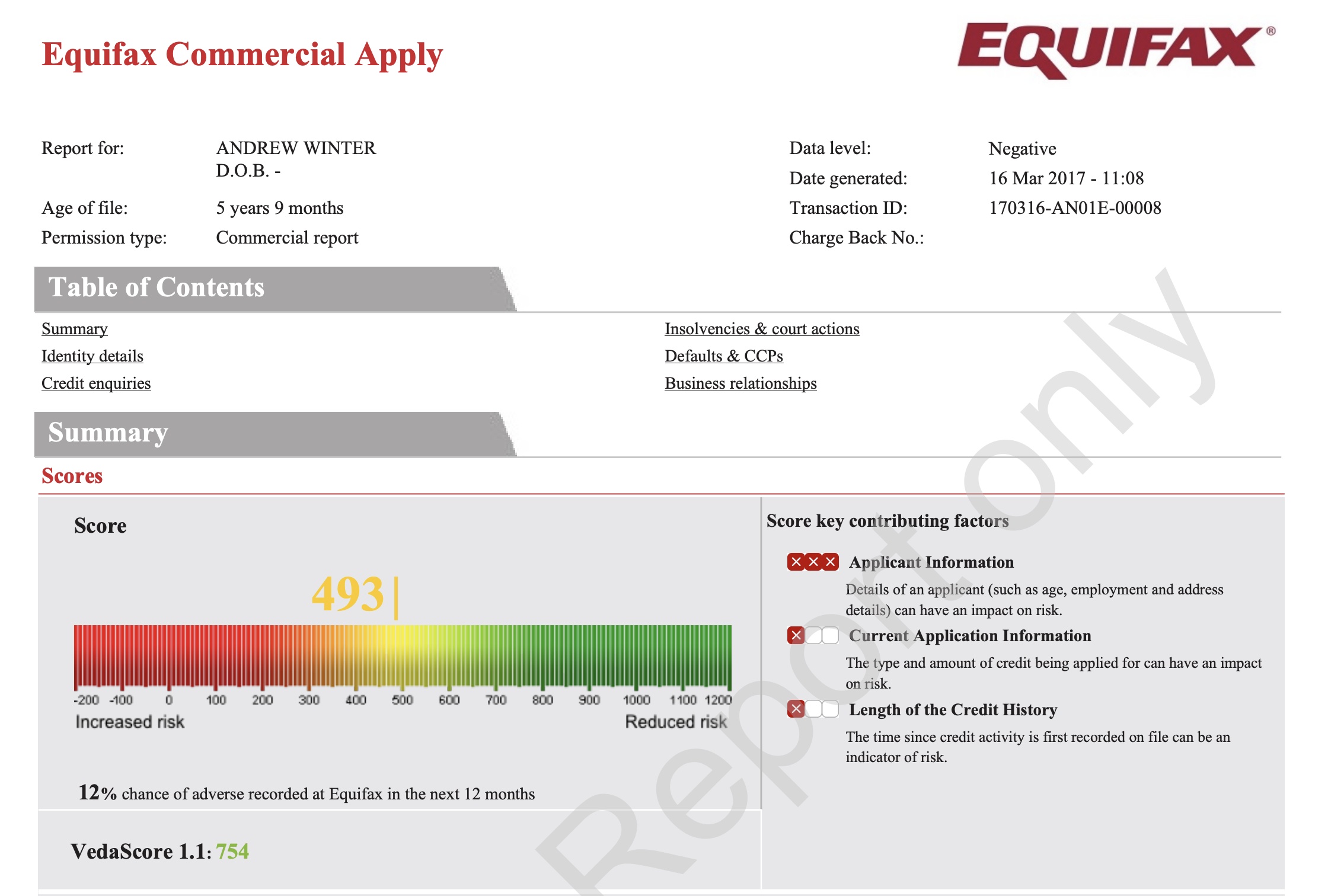 Start Your FREE Trial Today!
No credit card required, all features available free for 10 days.
Free 10 Day Trial
Try our 10 day free trial for full access to the Forms Live platform. All features are available - including DocuSign - with no restrictions or commitments.
What's included
Over 40+ forms available

Send forms for signing via DocuSign

Integrate's easily with your CRM

Covid-19 forms available now
Minimise
Access Comprehensive reports in minutes
One seamless connection. Protect the interests of many.
Equifax Commercial Apply
The most up to date and comprehensive credit report available. Provides the peace of mind you need to accept or decline applications thanks to this reliable, fast and best in market credit check service.
National Tenancy Database
Evaluate tenancy applications quickly and easily. More than just a rental blacklist check, the National Tenancy Database provides tenant screening, credit checks, rental history, and much more.
In-Depth Trading History
Make decisions quickly and confidently. Receive an in-depth review of a company and its directors, to implement sound credit risk management procedures, reduce costs and lead to business growth.
Personas
We know you. We've got your back.
No matter what role you play in the real estate sector, we have the reports you need, ready and waiting.
Let's do this!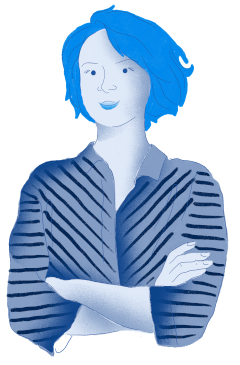 Property Manager
Protect the interests of your clients by efficiently vetting prospective tenants.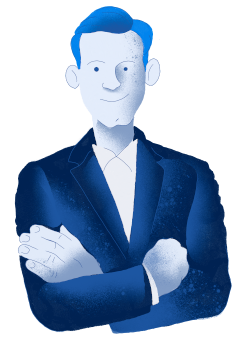 Real Estate Agent
Easily identify Zombie and Phoenix businesses at the push of a button.
You were asking?
Here are some questions you may be asking about our new Forms Live integration. However, if you have a query that isn't addressed by this list, we'd love to hear from you.
What kind of Zombies are we talking?
The undead, aka Zombies, walking the streets of the commercial property market are businesses that can only survive with pandemic-related government support are referred to as zombies. These businesses are unlikely to live beyond their hand-outs or complete a multi-year commercial lease. Learn more on our blog.
Is a Phoenix company just mythology?
Phoenix companies are most certainly real! They are failed enterprises that have been re-birthed using a new name but with the same unscrupulous directors. They circle commercial landlords in search of new leases or renegotiated terms with little care for meeting the terms of any lease. Learn more on our blog.
Why Equifax?
Equifax is the global data, analytics and technology company and leading provider of credit information and analysis in Australia. Equifax holds data on more than 3.6 million companies and businesses throughout Australia, providing customers with the ability to make more informed decisions.
How do I access these reports?
Reports are available in the Forms Live dashboard. Reports purchased are accessible and printable for 30 days from date of purchase. Refer to our User Guide for details.
Sign up Now
Now that you know a bit more about Forms Live, there's only two things that remain. Have a look at our pricing structure. See how the process can transform your business with a free trial!